Red Dog Casino website offers diverse payout options to meet the varying needs of players. And because all methods are safe, there's a guarantee of getting your money within standard time.
Even better, all Red Dog Casino withdrawal methods are free. Let's check out some of these withdrawal methods:
Withdrawal Methods Offered by Red Dog
| | | |
| --- | --- | --- |
| Withdrawal Method | Fee | Time |
| Bank Wire | Free | 5 Business Days |
| Bitcoin | Free | 1-3 Days |
| Visa | Free | 3-4 Business Days |
| MasterCard | Free | 3-4 Business Days |
Please remember that all Red Dog Casino payouts are processed in USD, AUD or Euro. If you transact using other currencies, you may incur currency conversion fees, bank fees, or overseas fees.
You also need to verify your account before your payment is approved – a process that can take up to 48 hours.
Red Dog Casino Withdrawal Limits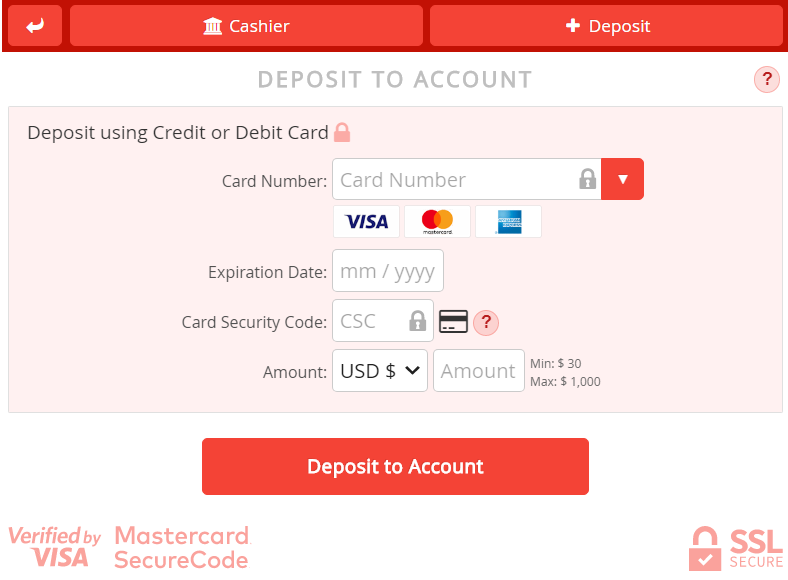 To meet the unique needs of all players, Red Dog Casino offers varying withdrawal methods, each with limits. Below is a list of these withdrawal limits:
Credit Cards: Minimum withdrawal limit $150 and $2,500 maximum
Bitcoin: Minimum withdrawal limit $150 and $2,500 maximum
Bank Wire: Minimum withdrawal limit $150 and $2,500 maximum
Based on the above info, Bitcoin is the ideal Red Dog Casino payout method as the payout time is the fastest and takes only 1-3 days.
Remember, the highest you can withdraw weekly is $2,500. If the amount is higher than this, you'll have to postpone some withdrawal amounts to the following week.
Red Dog Payout Process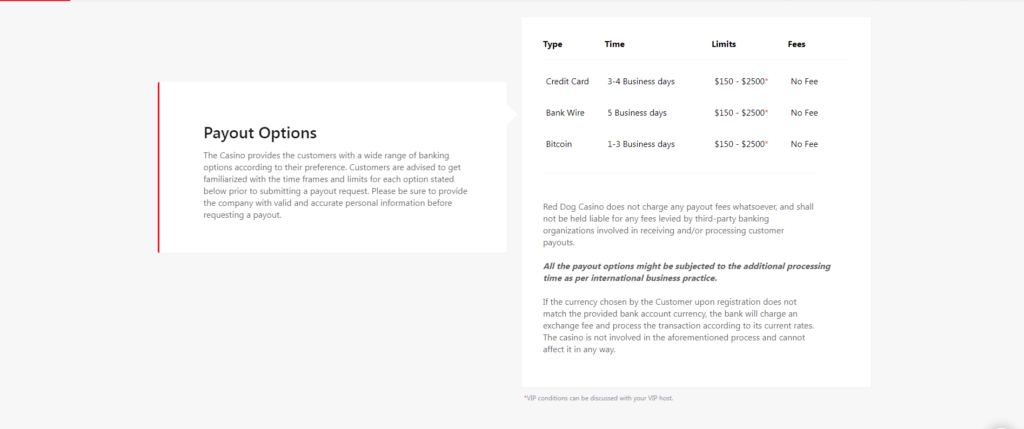 Step 1: Verify Your Account
Before you can process a payout, you need to complete the Red Dog Casino validation process. Here, the support team will verify your account using the following documents:
Identification document: This can be your driving license, national ID, or your passport
Proof of address: here, you'll provide your bank statement, utility statement, council bill, or phone bill not older than 3 months
Front and back copies of your Credit or Debit Card
As soon as you send the documents to the Red Dog Casino payout verification email, the verification process will begin. And in 48 hours or less, you'll be able to process your payout.
Step 2: Select Your Payout Method
As we mentioned earlier, you can choose to withdraw using Bitcoin, Bank wire, or Visa/MasterCard payment options. For Bitcoin, you get your funds in 3 days or less but may wait 3-5 days for Credit Card and Bank wire payout options.
Step 3: Key in the amount you wish to withdraw
The minimum withdrawal amount is $150 for Bitcoin and $150 for Check and Bank Wire. And for all Red Dog Casino withdrawal methods, the maximum payout is $2,500.
Step 4: Get your money
It's that simple. Red Dog Casino is a trusted gaming site where you always get your due reward after winning.
Customer Service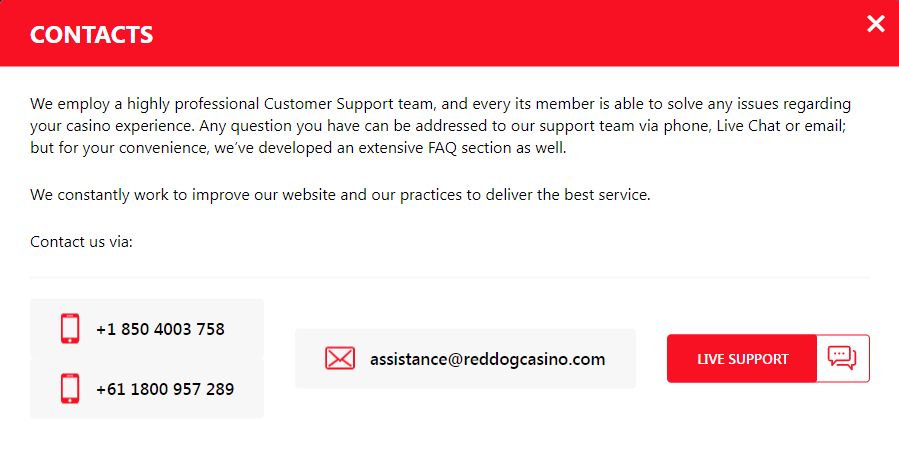 If you need help with your payout or other issues related to gaming, the support team is available 24/7. You can reach them via live chat, phone, or email, depending on the urgency of the issue.
And if you need proof that this is a trusted casino, you can always check out Red Dog Casino payout reviews.