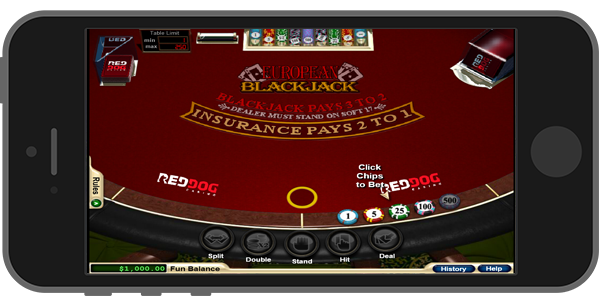 Blackjack is one of the most popular gambling games to date. Millions of people play it and enjoy it.
Popular Blackjack Games to Play at Red Dog Casino
Red Dog casino is no stranger to this – and there are several variants of the Red Dog blackjack game available. Here are some of them:
Blackjack. First in line is the classic form of Red Dog blackjack. There are no special rules in this game – it's the game of blackjack how it's meant to be played. The goal is to reach 21 or get as close to it as possible – the best-case scenario is to get a natural blackjack with your first two cards. There is mathematical thinking that needs to be implemented for the player to increase their odds of winning. If you make smart choices, you will be able to dramatically increase your chances of winning.
Face Up 21. This is another RTG game that you can play at RedDog casino. In this version, the dealer is required to stand on soft 17. One of the best parts about this game is the incredibly high RTP rate of more than 99%. The game uses 6 decks of 52 cards each. The difference about this version is that the dealer's cards are face up – hence the name. This would normally mean that the player has an advantage – but, in this game, it comes at a cost. The blackjack win pays even money – and the dealer wins all ties except when the player gets a natural blackjack.
European Blackjack. The difference between European Blackjack and American Blackjack is that in the first, the dealer draws only one card at the beginning of the round – as opposed to the two cards that the dealer draws in American Blackjack. This alters the playstyle in certain ways. The dealer is forced to draw on 16 or less – and the dealer stands on soft 17. It's one of the most fun variants of blackjack games and one that is frequently played at Red Dog casino.